Painting Prices in Gibbsboro, New Jersey
Are you wondering how much painting services in Gibbsboro, New Jersey cost? Pricing varies, of course, but if you're looking for a solid painting contractor in Gibbsboro at a price that is fair, you've just found them! At Pete Jennings & Sons, we like to assess the scope of the job at hand before quoting a price. We believe every painting job is unique, just as every surface is unique. Whether you want a price to paint the exterior of your Gibbsboro home or just touch up the trim and front door, we'll assess the work requested and readily give you our best price.
We treat every painting or staining job as if our reputation depends on it (because we know that it does). The pride we take in our work shows in everything we do, but giving all our customers value for money is very important as well. While you might be able to find a cheaper painting contractor in Gibbsboro, pricing generally reflects skill level and quality. We know you won't find a higher quality Gibbsboro painter with the great pricing Pete Jennings & Sons can deliver!
---
Call for a Free Quote
---
Our Gibbsboro Painting Pricing Process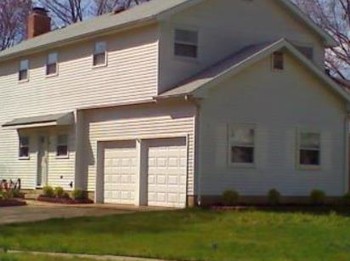 Rather than giving our customers a list of set prices, we follow a consistent and fair pricing process. After an initial phone discussion, we'll schedule a convenient time to visit you in person, whether at your home, office or wherever the work will take place. We'll listen carefully to your painting requirements. We'll take time to consider both your space, the materials needed and any other factors that may impact pricing the job.
Once you're happy that we have considered all aspects, we'll then calculate the cost to paint your Gibbsboro home or office building. We'll provide you with a free written estimate as soon as we have it, although we don't like to rush such an important task.
The quote you receive will be based on a range of factors, including the required timescale, the nature of the work and the caliber materials you are looking for. For example, if you wish to change the color of your home's exterior, in Gibbsboro the cost will be a bit higher than if you wish to stay close to the current color. Wherever possible, we will work within the confines of your budget, but we'll always be honest and upfront with prices.
We will guarantee this: Pete Jennings & Sons always strives to complete work on time and within the established budget. Once we've given you a written estimate, you can take it to the bank!
The Best Painting Value in Gibbsboro
Our experienced Gibbsboro painting contractors are not only highly skilled and conscientious, but they provide painting services in Gibbsboro at a great value. Over the years, we've successfully completed just about every imaginable type of painting project. There is no painting job we can't take on successfully.
While we don't claim to be the cheapest painting service in Gibbsboro, we honestly believe we're the best. Call (856) 421-6638 and you will be in touch with a team that values attention to detail and building trust. We never cut corners to save time or money. Our reputation (and your home) is simply too important to us.
If you are looking for a Gibbsboro painter for a cost-effective and high-quality job, call (856) 421-6638 for the best painting value in the area.
---
Call for FREE Painting Prices Quote
Dial Area Code first please.
---
WHAT CUSTOMERS ARE SAYING:
5★★★★★ - "Clean, courteous and very professional. Simply the Best."

Anonymous in Moorestown, NJ

2020-03-02

5★★★★★ - "Pete and his crew are wonderful!! They were on time to start and really worked hard. They painted my badly needed garage walls, work area, and painted my garage floor. They taped and wrapped everything first that wasn't getting painted. It was very professionally done. I highly recommend Pete Jennings for all your Deck Restoration, Garage floors, Painting exterior and interior,Power Washing, Leak repairs, and Roof Replacement needs. He's the Best!!!"

P. Addison in Cherry Hill, NJ

5★★★★★ - "Great experience!!! My husband is not one to hire someone to do things around the house. This year is different as he has had surgery on both of his shoulders. We were very pleased at the attention to detail that Pete gave and the price was very reasonable! Thanks Pete!!"

Cheryl B., Pressure Washing in Browns Mills, NJ

2013-06-17

5★★★★★ - "Pete was very prompt and very courteous and professional. His work was excellent."

Ronald F., Roof Repair in Sicklerville, NJ

2013-06-17

5★★★★★ - "Pete called within 5 minutes of me putting in my information. He was at my home 2 hours later, and gave me such an incredible quote, that I hired him on the spot. He kept me informed during the process and performed a quality job. No negatives with Pete."

Christopher K., Roof Repair in Runnemede, NJ

2013-06-17

5★★★★★ - "Peter was prompt, efficient and very professional. I would highly recommend him."

Sharon N., Exterior Trim Work in Mount Laurel, NJ

2013-06-17

5★★★★★ - "Pete was very timley coming out to quote and adusted his quote to match a price from another contractor. Pete did a great job, is very personable and would be on my list for any future jobs."

Hank W., Painting in Marlton, NJ

2013-06-17

5★★★★★ - "Absolutely wonderful! Very effiicient, prompt, he listened to what I needed, and went above and beyond with adding to the cost."

Linda A., Deck Staining in Moorestown, NJ

2013-06-17

5★★★★★ - "Nice, hard working people. Described what and how job would be done. Job completed quickly and very well done."

Jacque V., Deck Staining in Vincentown, NJ

2013-06-17

5★★★★★ - "Pete Jennings is a thoughtful, honest, well trained and experienced professional. I also met one of his son's, Joseph, who is a carbon copy of his dad. Pete also painted my house, after fixing the chimney and roof area that was leaking. NO MORE LEAKS! Very nice looking job too, around that chimney. And the house never looked better! He worked with us with our changes even, never making us feel bad for making them. That is rare. His prices were very fair. And, Pete didn't pad the bill as the job went along. I got more of a deal than originally thought! That is also rare."

John D., Roof Repair in Barrington, NJ

2013-06-17

5★★★★★ - "Perfect and very honest person. Told me what was wrong with my roof leak and avoid any reap offs from other contractors who gave me cut throat estimates. very reasonable and SHALL DEFINITELY hire him for next project and already refered him to my friends."

Dhaval P., Roof Repair in Pemberton, NJ

2013-06-17

5★★★★★ - "Pete and his son, Joe, were very prompt with their response to my request. He came to my home the afternoon he contacted me, diagnosed the problem and came the next day, today, and completed the work. They were very professional and respectful. I would use Pete again for future projects."

Gary S., Roof Repair in Lumberton, NJ

2013-06-17

5★★★★★ - "Nice guy's, quality work, great price! What more could you want? Joe was courteous and helpful throughout the project, and I was extremely happy with the final product. I have already recommended Pete and his crew to friends, and would absolutely hire them again! Great job!"

Ed H., Painting in Riverton, NJ

2013-06-17

5★★★★★ - "Very conscientious and courteous. His work crew were the same. He painted a three story home and did a very good job. Cleaned up a every day. I would hire him again or refer him to others."

Anthony C., Painting in Haddonfield, NJ

2013-06-17

5★★★★★ - "Mr. Jennings promptly returned my call, came over THAT DAY to quote me, and the job was completed very quickly by Joe. So quickly, it made me feel foolish for even trying to do it myself. Lol I want to get my house painted as well and you can bet that when I do, Mr. Jennings will be who I hire for the job."

Kimberley T., House Painting in Runnemede, NJ

2013-06-17

5★★★★★ - "Pete arrived on time and did a fine job, very polite and professional at a great price."

Power Washing in Medford, NJ

2013-06-17

5★★★★★ - "Great customer service and good ideas to build on the work I wanted done. Flexible."

Linda I., Painting in Cherry Hill, NJ

2013-06-17

5★★★★★ - "Very friendly and professional. Did a good job at a good price. Would use him again and recommend to others."

Janice K., Painting in Jobstown, NJ

2013-06-17

5★★★★★ - "Prompt return of phone call; excellent quality work. Stands by his work! I had a concern, but Pete's answer to my question proved to be correct and we are very satisfied with our new garage floor. He is very careful and cleans up after the job is done. I would highly recommend him."

Theresa W., Garage Floor Painting in Florence, NJ

2013-06-17

5★★★★★ - "I couldn't have been more pleased than I was with Pete Jennings. Very professional, polite and went over and above what was expected. Great job, my deck looks beautiful!"

Cynthia H., Deck Staining in Mount Holly, NJ

2013-06-17

5★★★★★ - "Pete cleaned and painted my entire house exterior, including about 21 windows, 3 doors, and 2 porches. He was professional, enthusiastic, informative, and hard-working. My neighbors who walked by to admire the work in progress also immediately found him to be professional and friendly. The work was done for a reasonable price and on time, just as he estimated. Pete made good decisions along the way and helped me make good decisions too. He spent the last two hours of the last day making sure that I was well-satisfied with the work, which I was. Pete is a go-getter, and the 3rd generation family business is in good stead with him."

Guy W., Deck Staining in Bordentown, NJ

2013-06-17

5★★★★★ - "Completed project within reasonable time frame, very neat and moved all furniture, etc. back in place."

Dori L., Deck Staining in Voorhees, NJ

2013-06-17

5★★★★★ - "It is a busy time of year and he still managed to get the job done on 04/07/10. I have recommended him to my neighbor and she had her house powerwashed as well. Very courteous and efficient. I will contact him in the future when I have the need."

Martha T., Pressure Washing in Sicklerville, NJ

2013-06-17

5★★★★★ - "Friendly, Prompt, direct to the point. does not cut corners in products or service however gives the best price for the job. arrives on time when indicated. returns calls promptly. excellent workmanship and quality of job. Anxious to start additional projects."

Carol M., Roof Repair in Vincentown, NJ

2013-06-17

5★★★★★ - "Mr. Jennings was extremely prompt in returning our call. He cleaned our roof and power washed our siding - all within the same day. He was very curteous, reasonably priced and professional in performing our work. Will probably have him come back and powerwash our deck and reseal it in the spring."

Richard S., Roof Cleaning in Sicklerville, NJ

2013-06-17

5★★★★★ - "The power wash was fast and efficient and since Pete gave us a great estimate on painting the house we were able to have him do that job also. Pete Jennings was very accomodating and went the extra mile. The house is older and has some quirks but Pete was up to the challange and did a great job. We are very pleased."

Barbara H., Pressure Washing in Stratford, NJ

2013-06-17

5★★★★★ - "Pete did a WONDERFUL job on my deck project. My decks total about 900 square feet. He powerwashed and stained/sealed them. What an amazing job! I never could have imagined that my old gray looking wood deck would look so great. Pete was friendly and helpful. His quote was affordable. I would recommend him for any of your painting or staining needs. I know I would use him again!!! I still drive up to my house and smile at the amazing job he did on my deck:)"

Kelley C., Deck Staining in Riverside, NJ

2013-06-17

5★★★★★ - "I contacted Pete in July 2007 for a quote to powerwash our home. He gave me a great price & also recommended painting it due to the age. We put the project on hold until this month. Pete came out again, gave us a great price to wash, prep and paint our home. We chose him not only because of the price, but because he was so enthusiastic about the job and how great the house was going to look when it was done. He was right, it looks like a new house! He is honest, hardworking, talented and gets the job done quickly. A+ work! We recommend him to everyone."

Maria B., Pressure Washing and Painting in Mount Laurel, NJ

2013-06-17

5★★★★★ - "Pete estimated and completed the job in a timely manner as he said he would. He and his crew were neat, polite, and thorough in their work. I would definitely hire this contractor again."

Jill M., Deck Treatment in Cherry Hill, NJ

2013-06-17
---
Call for FREE Painting Prices Quote
Dial Area Code first please.
---